My 3.5 year old daughter and I searched up 'Buttercup' for letter B.  We found information about buttercups on Backyard Nature.  We saw what buttercups look like and learned a little about what buttercups are!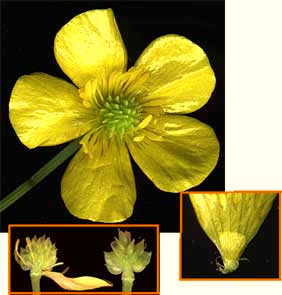 Blossoms in the spring, approximately the size of a quarter
In NE United States and Canada, there are 36 wild butter cup species alone!
Most buttercups have five petals that are yellow, some are white
The green center contains pistils
When the pistils are pollinated, the stamens and petals fall away
Esmeralda loves flowers so she really enjoyed learning about the buttercups.  I honestly do not think we have touched the fact that flowers have their own names, so that was something new for her to learn. 
At first she started coloring her buttercup page yellow, but it appeared very light on the paper so she kept saying that the yellow crayon was broken.  Instead she chose a dark grey/light black color to finish coloring her buttercup.  It is her art, so I allowed her to change colors if she felt she needed to.
She is excited to add her buttercup page with her albatross from last week into her nature alphabet book binder!
–Kendall–